Used correctly, motion graphics can attract those in attendance to your presentation like moths to a flame. When used properly, worship motion graphics can enhance your presentation to such an extent that fellow church members would ask you what your secret recipe is. The answer you will most likely give them is that you can thank ShareFaith for offering such as large selection of worship media, including church graphics.
Motions are regarded as the secret ingredient to making the most of your worship media in the form of videos or slides. The question most church leaders have a problem with is when, where, and how would you apply church motion grahics
For one, there are specific times during the service when motions would add to what you're already doing. If you use it at the wrong time, they can become a distraction.
When Should You Use Motion Graphics?
It all depends on what you intend using them for as they are highly situational. When employed in the right setting, they can help the congregation to focus on all the right things, but when used improperly it may prove to be a stumbling block and stand in the way of church members fully appreciating what has been shared and from connecting with your message.
Besides, distractions are common during a church service, and we don't want that to happen. People commented that they found some motions to be uncomfortable and distracting. Church leaders have a responsibility to use motion graphics the right way.
To pull this off, you need to gain a proper insight regarding their function in a church setting. After all, motions graphics are perfect for adding a certain amount of energy to the parts of the service that makes sense, such as your worship to God. Ideally, what you want is to know when to get motions to demand people's attention and when you do not want them to pay attention to what is presented on the screen.
It is all about creating meaningful art to the benefit of those in attendance. The responsibility as to how the art will be used rests with the pastor and Church volunteers who have a hand in implementing motions in the service.
Aspects One Should Bear in Mind Concerning Where Motions Would Work
Before you begin with your presentation, you may want to consider the part of the service where it would be appropriate to utilize motions.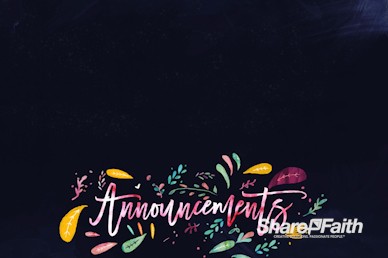 Motions tend to work well when there is a need for high energy parts such as worship or as background material before and after the Church service. To use these right in the middle of the sermon or when someone is busy talking can be very distracting.
Also, if the motion you choose to use isn't aligned properly with other design elements of your service such as the lighting, sound and stage design, or even the words on the screen, then it's distracting.
If you are responsible for a smaller congregation, or you would do your presentation in a living room, then making use of huge countdowns with loud music playing wouldn't be right. In a bigger Church with lots of space, motions prove to be efficient and draw attention to a particular part of the room where you want people to focus.
However, it isn't just about the physical space as to whether you'd be using motion graphics or backgrounds as it also depends on the culture of the church. For some churches who are very passionate about their worship, it makes sense to keep the motions going for at least a third of the service.
Do Motion Graphics Effect Moods?
Pastors or Church leaders would ultimately like to set the right mood each week during their sermons. As a result, they are thinking about the right moment when to dim the lights or when they should use candles, and what songs would be best to use.
Besides, it involves a coordinated effort to align the design of the church service so it can make an impact and result in a lasting impression.
Therefore, you've gotta be careful which motions you would be using as some will be very subtle while others tend to be in your face. In other words, different motions create different moods in that some would pump people up and others would relax them more. Natural scenes are loved by everyone such as waves breaking on the seashore.
While not all Churches have embraced Church motion graphics, the majority regard the use of movies and motion graphics as a way of being more thoughtful about the way the media world is evolving rapidly.
No doubt, it would make logical sense to embrace the new way of doing things by using a broad range of worship media from companies like ShareFaith graphics company who provide complete access to all their motion graphics.